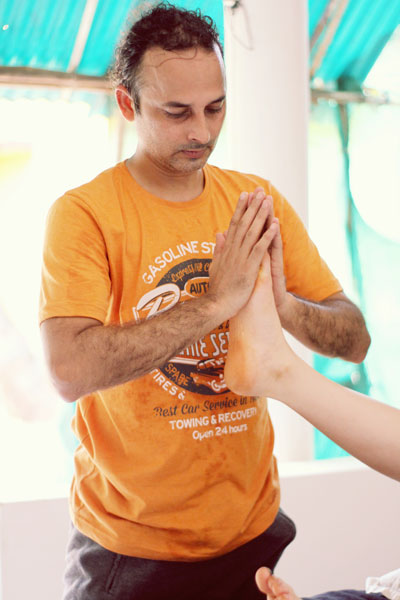 Shantam is the Director and Founder of Meditative Touch Rebalancing. He is a qualified Bodywork/ Massage Therapist, Yoga Teacher, Meditation Facilitator, and Master in Clinical Hypnosis. He is an experienced teacher who loves to share all that he has learned in his life journey.
He has been practicing bodywork/massage for eight years, applying different techniques/styles such as Deep Tissue, Myofascial Release, Core Integration, Rolfing, Rebalancing, Joint-Mobilisation (Tragering) and assisted Yoga stretches of Ayurvedic / Thai origin. Together with these techniques, his experience with meditation for over 19 years has helped him incorporate his sensitivity and energy healing into his bodywork to deepen his work and act on more subtle levels. In doing so, his clients experience that he can reach beyond the physical body, to a beautiful space where more profound and long-lasting healing can take place.
Every session is unique as he adapts to the body and condition of the client. Everyone can benefit from his experience, regardless of age and gender. He has worked with pregnant women and also seniors. He thoroughly prepares for each massage session, taking care of the condition of his own body and mind. While in his bodywork sessions, he becomes like a "reflection" for the clients so he can feel them better and connect to the parts in need. He admires his clients for their exceptional courage, strength, and the willingness to work on themselves.
Through all these years of experience as a multi-style Massage Therapist, Meditation Teacher, and Hypnotherapist, he has gained excellent knowledge about the mind and how it commands the body. In his massage therapy training course, he helps his students to learn these principles by teaching how to work on energy levels and how to find a balance so mind and body can be in deep relaxation.
Passionate about sharing, Shantam is confident that when you give you receive back, and that is why he finds bodywork, and facilitate massage certification course, are such a miraculous way of touching other's lives. He realizes what the human body is, and how necessary it is to accept what it is saying to us. He considers himself gifted and fortunate to be able to support and assist people on their life journey towards health, blissfulness, and be more aware of oneself.
Shantam feels that massage is prayer because the human body is a temple, and he treats it with honor and love. Bringing feelings into the body is essential in working with students and clients. The body is a micro-cosmos in itself, and its capacities to balance and heal itself are beyond comprehension.